UFOs are at the heart of our popular culture, and opinions range from a firm belief that extra-terrestrials are already here, walking among us and influencing politics, to outright dismissal of the possibility of any intelligent life beyond our planet. But now, with this topic being discussed at the highest levels of Governments around the world, the subject has never been more relevant globally, than it is now. Join Neil & Stu as they consider, debate and present both sides of this paradigm-shifting debate with focus on different areas each week. The strange and mysterious awaits!
Episodes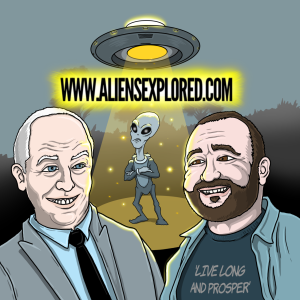 Thursday Sep 14, 2023
Thursday Sep 14, 2023
This is a Special Epsiode on the alleged non-human bodies presented to the Mexican Congress
A huge thank you to all our Patrons: Alastair Headden; Dee Nandwani; Ed Wilson; and Toby Fomes! 
You can help support us for the low price of £2GBP (approx. $2.50USD) per month through our Patreon at ⁠⁠⁠http://www.patreon.com/AliensExplored⁠⁠⁠ 
 
Mexico's Congress were presented with bodies that are claimed to be 'Non-Human' entities on the 12th September 2023. The specimens were alleged by journalist and Ufologist Jaime Maussan to be around 1,000 years old, differing substantially from human DNA and genetic material, and found buried in a Diatomic mine in Peru, 2017. 
Join Neil and Stu for this very special Breaking News episode as they have what can only be described as a 'heated debate' trying to unearth the truth of these incredible claims.
The Strange and Mysterious awaits! 
 
Produced by ⁠⁠⁠http://www.feeglefilms.com⁠⁠⁠ in association with Juicy Falls.
Theme tune - 'Searching For Monsters' by Darren Maffucci - ⁠⁠⁠http://searchingformonsters.bandcamp.com⁠⁠⁠ 
 
Find us on:
Facebook - ⁠⁠⁠https://www.facebook.com/aliensexplored⁠⁠⁠
Twitter - ⁠⁠⁠https://twitter.com/AliensExplored⁠⁠⁠
Youtube - ⁠⁠⁠https://www.youtube.com/channel/UCIqjn4PNcs3NWH1u2v4He0w⁠⁠⁠
Email us at - ⁠⁠⁠AliensExplored@gmail.com⁠