Episodes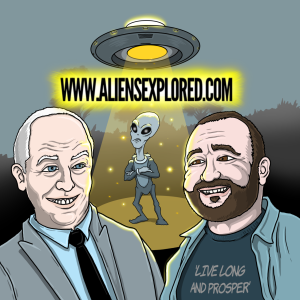 Friday Jul 15, 2022
Friday Jul 15, 2022
The AMA live stream with Stu to celebrate the 2 year anniversary of Aliens Explored will be on Sunday the 31st July 2022, at 4pm UK time (10am Central time in the US), and will be at http://www.twitch.tv/hailing_frequencies

A huge thank you to all our Patrons: Vanessa Keim; Israel; Dee Nandwani; Toby Fomes; and Explorer of the Week: Jonathan Perna!
You can view our Patreon and all the various tiers and rewards at http://www.patreon.com/AliensExplored
Dr. Greer was an emergency room doctor who retired from medicine to pursue his interest in ufology. He has pioneered Close Encounters of the Fifth kind, where contact is initiated by humans and set up the Disclosure Project with the aim of publicly disclosing the US government's alleged knowledge of UFOs, extraterrestrial intelligence, and advanced energy and propulsion systems. Join Neil & Stu as they discuss the life and work of Dr Steven M Greer!
The Strange and Mysterious awaits!
Produced by http://www.feeglefilms.com in association with Juicy Falls.
Theme tune - 'Searching For Monsters' by Darren Maffucci - http://searchingformonsters.bandcamp.com
Find us on:
Facebook - https://www.facebook.com/aliensexplored
Twitter - https://twitter.com/AliensExplored
Email us at - AliensExplored@gmail.com