UFOs are at the heart of our popular culture, and opinions range from a firm belief that extra-terrestrials are already here, walking among us and influencing politics, to outright dismissal of the possibility of any intelligent life beyond our planet. But now, with this topic being discussed at the highest levels of Governments around the world, the subject has never been more relevant globally, than it is now. Join Neil & Stu as they consider, debate and present both sides of this paradigm-shifting debate with focus on different areas each week. The strange and mysterious awaits!
Episodes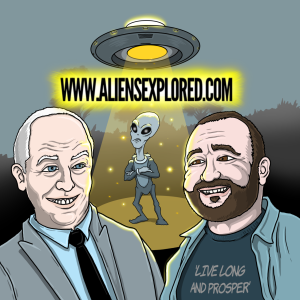 Friday Aug 19, 2022
Friday Aug 19, 2022
A huge thank you to all our Patrons: Anne Williams; Alastair Headden; Toby Fomes; Dee Nandwani; Isreal; and Explorer of the Week: Jonathan Perna!
You can view our Patreon and all the various tiers and rewards at http://www.patreon.com/AliensExplored
Luis Elizondo is a former US Army Counterintelligence Special Agent, who became Director of the Advanced Aerospace Threat Identification Programme (AATIP). Upon joining AATIP, he was an out and out skeptic when it came to UAPs and UFOs, but upon leaving he became one of the most vehement voices for disclosure in the US today. But is he just doing it for attention and money as some claim, or was he even Director of AATIP as others have called into question? Join Neil & Stu as they discuss the life and work of Luis Elizondo.
The Strange and Mysterious awaits!
Produced by http://www.feeglefilms.com in association with Juicy Falls.
Theme tune - 'Searching For Monsters' by Darren Maffucci - http://searchingformonsters.bandcamp.com
Find us on:
Facebook - https://www.facebook.com/aliensexplored
Twitter - https://twitter.com/AliensExplored
Email us at - AliensExplored@gmail.com