Episodes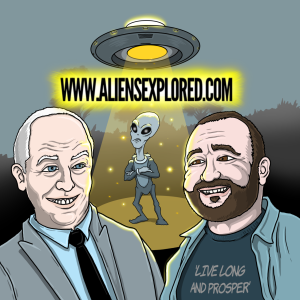 Friday Jun 03, 2022
Friday Jun 03, 2022
A huge thank you to all our Patrons: Jonathan Perna; Toby Fomes; Dee Nandwani; and Explorer of the Week: Israel!
You can view our Patreon and all the various tiers and rewards at http://www.patreon.com/AliensExplored
In 2018, a flurry of Google Earth photos revealed what many took to be a 50 meter long UFO on the Antarctic island of South Georgia. The object appeared to have slid some distance through the snow and ice after crashing into a mountain. Join Neil & Stu on Aliens Explored as they investigate whether it was indeed an extra-terrestrial craft that had catastrophically failed to complete its return to its hollow Earth lair, or simply an odd natural phenomenon sometimes caused by landslides.
The Strange and Mysterious awaits!
Produced by http://www.feeglefilms.com in association with Juicy Falls.
Theme tune - 'Searching For Monsters' by Darren Maffucci - http://searchingformonsters.bandcamp.com
Find us on:
Facebook - https://www.facebook.com/aliensexplored
Twitter - https://twitter.com/AliensExplored
Email us at - AliensExplored@gmail.com