Episodes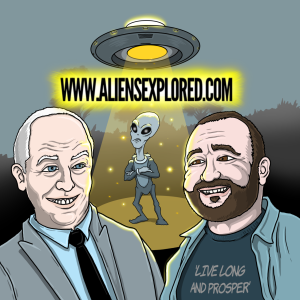 Friday Jun 17, 2022
Friday Jun 17, 2022
A huge thank you to all our Patrons: Israel; Jonathan Perna; Dee Nandwani; and Explorer of the Week: Toby Fomes!
You can view our Patreon and all the various tiers and rewards at http://www.patreon.com/AliensExplored
In this week's episode of Aliens Explored Neil & Stu will be discussing the life and works of Polish-American author and self-described "wandering teacher", George Adamski. In the 1940s and 1950s Adamski became widely known, not just in Ufology circles, but in the wider popular culture, after he produced a series of photographs that he claimed were alien spacecraft. Furthermore, he claimed to have met Nordic-type aliens from various planets in our solar system and to have travelled to the other side of the moon in a Venusian craft.
The Strange and Mysterious awaits!
Produced by http://www.feeglefilms.com in association with Juicy Falls.
Theme tune - 'Searching For Monsters' by Darren Maffucci - http://searchingformonsters.bandcamp.com