UFOs are at the heart of our popular culture, and opinions range from a firm belief that extra-terrestrials are already here, walking among us and influencing politics, to outright dismissal of the possibility of any intelligent life beyond our planet. But now, with this topic being discussed at the highest levels of Governments around the world, the subject has never been more relevant globally, than it is now. Join Neil & Stu as they consider, debate and present both sides of this paradigm-shifting debate with focus on different areas each week. The strange and mysterious awaits!
Episodes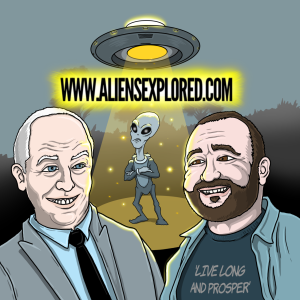 Friday Oct 06, 2023
Friday Oct 06, 2023
A huge thank you to all our Patrons: Alastair Headden; Dee Nandwani; Ed Wilson; and Toby Fomes! 
You can help support us for the low price of £2GBP (approx. $2.50USD) per month through our Patreon at ⁠⁠⁠http://www.patreon.com/AliensExplored⁠⁠⁠
This week on Aliens Explored, Neil and Stu will be discussing the strange tale of the Mowing Devil of 1678 in which a farmer, having argued with a local labourer over the going rate for harvesting his cereal crop proclaimed that he would rather the Devil mowed it instead. The story is light on detail but the gist is that the farmer found that the very next day his crop had been mowed, but in such a way that he could not use the product. 
Join Neil and Stu as they ponder whether this is the first recorded example of a crop circle.
The Strange and Mysterious awaits! 
 
Produced by ⁠⁠⁠http://www.feeglefilms.com⁠⁠⁠ in association with Juicy Falls.
Theme tune - 'Searching For Monsters' by Darren Maffucci - ⁠⁠⁠http://searchingformonsters.bandcamp.com⁠⁠⁠ 
 
Find us on:
Facebook - ⁠⁠⁠https://www.facebook.com/aliensexplored⁠⁠⁠
Twitter - ⁠⁠⁠https://twitter.com/AliensExplored⁠⁠⁠
Youtube - ⁠⁠⁠https://www.youtube.com/channel/UCIqjn4PNcs3NWH1u2v4He0w⁠⁠⁠
Email us at - ⁠⁠⁠AliensExplored@gmail.com⁠